A POTTED HISTORY
The Border Reivers was originally founded by Jock McBain, a Chirnside agricultural engineer and garage owner (and one-time recipient of a certificate for beating the What's my Line team on TV as a manufacturer of windmills!)  Jock had all the promise of becoming a noted racing driver in the late 30's, but the war and his RAF service put an end to that.  He it was who, after the war, got together, firstly, three local motor clubs to form the Winfield Joint Committee and turn first Winfield and later Charterhall into Scotland's premier motor racing circuits.  Keen to have a go himself, he then persuaded some of his farmer customers to buy Cooper 500cc racing cars and hence was formed the Border Reivers.  Another local farmer, Jimmy Somervail, bought one of the famous ex-Prince Bira ERAs and Jock up-graded to a Cooper-Bristol;  another – Alec Calder, whose wife Matty is Jim Clark's eldest sister – joined with his Brooklands Riley and other farmer members included David Swan, Colin Clark and Ky Mauritzen, later joined by Keith Hall and others.  It was a formidable line-up of talented drivers, all of whom owned their own cars but enjoyed help from Jock's company in race preparation.
Back in the early fifties travel times to English circuits were much greater than now, but this didn't stop the Reivers from making forays over the Border, although their main successes came from racing at Charterhall.  At that time, that old airfield circuit was host to a number of  National and International Race meetings each year, with most of the top names in motor racing appearing  –  Stirling Moss, Reg Parnell, Bob Gerard, Ken Wharton and Guiseppe Farina among them, in cars which included the Thinwall Special and the ill-fated V16 BRMs – among the top F1 cars of their day.  It was no walk-over for the Reivers and their main rivals in Scotland were, of  course, David Murray's Ecurie Ecosse Team, with drivers like Ian Stewart, Ron Flockhart, Ninian Sanderson and Jimmy Stewart regularly appearing with their Jaguars and David with his 4CLT/48 Maserati, Cooper-Bristol and Connaught.  Sadly, Charterhall's organising team overspent themselves with the major meetings, largely because security at the circuit was non-existent and thousands just walked in over the surrounding fields to have a free day's race-watching!  The Reivers, too, succumbed as a result of this and was closed-down in 1956.
There was a third Scottish team – or so the national press believed! – called Ecurie Agricole.  Formed by a bunch of young farmers led by Ian Scott Watson.  They managed to field a variety of out-dated cars – such as TC MGs, DKW Sonderklasse, Triumph TR2, Austin-Healey – and among the pit crew was a young lad called Jim Clark.  Ian eventually swapped his DKW for a Porsche 1600 Super and persuaded his "mechanic" to drive it at the BMRC Trophy Meeting at the end of 1957 season at Charterhall.  Jock McBain had by now acquired a Raymond-Mays Ford Zephyr but when he found he could not get near the Porsche and Clark went on to a fine win, summoned a meeting at his office the following week at which he asked Jim if he would be prepared to race a real race car and Ian if he would manage a re-vamped Border Reivers team to run it.  Both jumped at the chance and went in search of a suitable car.  The search ended at Cambridge, where they acquired the Murkett Brothers D-Type, which had been campaigned the previous year by Henry Taylor.  As yet without a team transporter, Clark drove it home to The Borders.
The 1958 season really got under way with the team heading for Full Sutton, a Yorkshire airfield circuit, where Clark had 2 wins in the D-Type and became the first driver to win a U.K. sports car race at an average of over 100 mph.  Then the team headed for Spa for the 1000 kms Race where both cars were entered.  Clark finished a very creditable fifth in the Porsche in the supporting race and drove extremely well in this most demanding of circuits in the D-type to finish eighth, sadly witnessing the accident which killed his friend and fellow-Scot, Archie Scott-Brown, in the works Lister.  Some start to his International racing career!  Throughout the season he enjoyed a needle match with the Ecosse cars.  The season ended with no less than 19 wins and a further 11 "podium" places.
So delighted was McBain with results that the team decided to think of a Formula 2 single-seater  for the 1959 season and a test drive was booked in the Lotus 16 "mini-Vanwall" contender.  Imagine their surprise when they found the entire works team – Cliff Allison, Innes Ireland and Graham Hill – among those present, as well as a number of other potential buyers and Mike Costin development – testing the new Lotus Elite prototype.  It was Colin Chapman who was perhaps even more surprised when he found the unknown-to-him Clark lapping almost as quickly as his works drivers within his first 5 laps and sufficiently horrified when he discovered the young driver had never driven at Brands Hatch, or even sat in a single-seater before, to call him in immediately.  The car was seriously damaged a couple of laps later (with Hill at the wheel) when a rear suspension strut failed.  One suspects that had Clark been at the wheel he would have been blamed and the chance of his ever having become a Team Lotus driver very unlikely!  As Clark had only had 5 laps, Chapman relented and allowed him 10 laps in the Elite – which he enjoyed more than the single-seater.  There and then, Scott Watson offered to buy one for Clark to race in 1959 so long as he bought the Porsche and a deal was clinched with a handshake there and then, the car to be delivered in time for the Elite's racing debut at Brands Hatch on Boxing Day.  Colin Chapman and Mike Costin were both entered to drive the little cars and in the race Clark had a race-long and memorable dice in which Chapman only gained the lead when a back-marker tried too hard on Clark's racing line to keep out of the leaders' way, allowing Colin the honour of winning his brainchild's first race with Clark a close second.  There can be little doubt that that race had a profound effect on Clark's racing career, because Chapman had tried every trick in the book to keep up with Clark and so impressed was he that he asked the Reivers if they would enter the car for Le Mans and to this they readily agreed.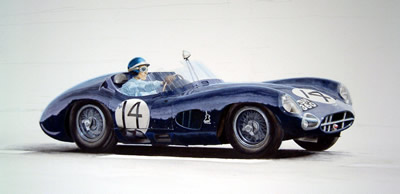 Jim Clark driving the Border Reivers Aston Martin DBR1 at Charterhall in 1961 – Print available for purchase from WST Graphic Art
Jock McBain then decided to replace the D-Type with a more competitive sports car and bought the ex-Bruce-Halford Lister-Jaguar.  This was really competitive with the rival Ecurie Ecosse cars, as was (almost!) proved at Goodwood in the Whitsun Trophy Race, when Jim held off Ron Flockhart in a memorable race which only ended when the Lister ran out of fuel on the last lap – the result of a miscalculation by the team manager and, to this day, his most embarrassing racing memory.  Nevertheless, Clark had some memorable  races in this car, which proved a match for the rivals if perhaps not quite quick enough for the works Listers.
The Elite was one of a small batch of pre-production cars that proved to have problems with their rear suspension mounts and when it happened at Oulton Park, Scott Watson was unwilling to let the car race again.  He arranged to have a replacement for Le Mans but this was on the basis of the co-driver being John Whitmore.  Whitmore and Clark hit it off from the start and made a well-matched driver pairing.  The car was late in being completed and only just got to Le Mans in time for scrutineering, with a list of around 32 modifications to be undertaken prior to the race.  Lotus just had not had time to race-prepare what was effectively the first production Elite from their new Cheshunt factory assembly line.  The pit team comprised McBain and young farmer friends of Clark and Scott Watson and it was a daunting task to complete the preparation in the muddy paddock at the circuit.  In practice, the Reivers car was a clear 20 secs a lap quicker that the other 3 Elites and there was considerable ill-feeling among the other competitors who believed the team had been given a special works car.  Clark was always quite brilliant at Le Mans starts and he was first, along with Stirling Moss, to move off.  However, at the second pit-stop when he took over once again from Whitmore, the car would not re-start and it was soon realised that to remove the faulty starter motor would be time-consuming.  The team voted unanimously to carry on and the time loss was around 60 minutes in the pits.  The same problem happened at around "breakfast" time and after a bit of subterfuge the car was back on the track within a further 20 minutes.
Nevertheless it finished second in Class and tenth overall – a remarkable result all things considered for a truly amateur effort.  The results show that had it not suffered the starter-motor delays, it would have won the prestigious Index of Performance.  The problem was due to a faulty rev counter, which meant that the car was over-revved by 500 rpm for the duration of the race and it was this higher engine speed that caused a vibration, which broke the armature shaft on two occasions.  Coventry-Climax checked the engine and quickly authorised all  their customers to increase the safe RPM limit by 500 rpm!  Clark went on to win the Snetterton Three Hours Race and with it the Autosport GT British Championship with the Elite, his thirty-fourth podium place of the season.
His driving was being noticed by others than Team Lotus and he was approached by Reg Parnell with a view to acting as No 2 in the forthcoming 1960 Aston-Martin F1 GP challenge, in return for which the Border Reivers would acquire one of the successful 1959 works DBR1 sports cars.  Furthermore, Parnell arranged for Roy Salvadori to co-drive it at Le Mans.  Clark was then asked to drive Formula Junior for Team Lotus and to stand in for John Surtees, whose commitments with motorbikes clashed with some of the Grandes Epreuves.  This clearly reduced his availability to drive regularly for the Border Reivers, and it was decided to undertake a limited Sports Car programme with the DBR1 only.  First International race,  also with Salvadori as co-driver, was the Nurburgring, but an engine failure put an end to this.  The engine was duly re-built for Le Mans and the team once again arrived at the Sarthe Circuit, this time with a car, which could conceivably be up among the prizewinners.  Clark and Salvadori matched well, as did the guest driver with the team.  In the race, the car (and the other ex-works car) soaked the cockpit and driver with oil but it kept going to finish a very creditable third overall, first British car to finish and without doubt the team's most prestigious result.
The Reivers returned once again with the Aston and an all-Scottish driver line up, Ron Flockhart partnering Clark, for the 1961 race.  Sadly, the clutch failed in the early hours of the morning with the car in eighth position.  It coincided with Jock McBain's untimely death at the age of 50 and the decision was taken to wind up the team.
However, Ron Flockhart had acquired a Cooper-Climax and decided to do the Tasman Series over the 1961/62 winter and he asked if he could run it as a Border Reivers entry.  The team were naturally delighted and it so happened that one of Scott Watson's fellow farming rally co-drivers, Alan Curry, had emigrated to New Zealand and he undertook to assist as Flockhart's mechanic.  After a fairly successful series, Flockhart was sadly killed in a flying accident in Australia as he left for home.
It wasn't quite the end, though.  Anita Taylor, the sister of Jim Clark's team mate Trevor Taylor, won the BMRC Trophy at the last-ever race meeting at Charterhall in Scott Watson's Lotus Elan and Andrew Cowan, rally driver, Mitsubishi rally team manager and close friend of Clark's, finished a close second in the first race at Ingliston and later the first-ever win of a Lotus Elan +2 driving Scott Watson's cars under the Reivers banner.
In the early seventies, a few years after the tragic death of Jim Clark, his cousin, Border farmer Doug Niven, was granted permission to use the team name, sponsored by Celtic Homes, the company of which Scott Watson was a director.  Doug added a string of memorable saloon-car race wins and Championships to the team's successes in his Boss Escort and Can-Am based VW Beetle Super Saloon, becoming one of the very best National Saloon car drivers of his era and endearing himself to the Ingliston racing fans among many others in the U.K. with his sideways style of driving.  Later still, in the eighties, the team were delighted to lend their name to the effort of yet another Border farmer, Cameron Binnie, who went on to win the Scottish Formula Ford Championship bearing the team's Border Reiver logo on no less than 5 occasions dominating the Scottish Formula Ford scene, after this Duns driver Stuart Thorburn was given permission to use the team name and races successfully in the Scottish Formula Ford Championship, earning more titles for the Border Reivers in 2005 by winning the Scottish Formula Ford Title and being Scottish Sports & Saloon Car Class C Champion.
Whilst the Border Reivers may never have achieved quite the same results or popular support that Ecurie Ecosse did, it nevertheless performed quite remarkable feats for a purely amateur effort, financed entirely by its members and without the wealthy sponsor that made possible its illustrious Edinburgh neighbour's successes.  Jock McBain's contribution to Scottish motorsport was immense and without his foresight in 1948 in gaining MoD consent to stage racing at Winfield there may never have been a circuit in Scotland.  Scott Watson went on to found the Scottish Motor Racing Club and to design the racing circuit at Ingliston, which replaced Charterhall, and help form Scotcircuits to build and run it.  The Border Reivers have, over the years, contributed much to motorsport in Scotland, and nearly all without any sponsorship or outside financial help, but their main contribution was undoubtedly their recognition of the talents of and unstinted support for, in his formative years, Scotland's first Formula One World Champion.
Ian Scott Watson